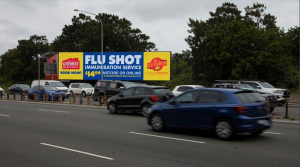 Chemist Warehouse picks Seedooh for Out of Home reporting
One of Australia's largest advertisers has chosen Seedooh to provide independent verification of its Out of Home campaigns, in another endorsement for the growing company's verification platform.  
Chemist Warehouse makes a significant investment in advertising, with various creative content involving multiple partner brands continually active, including numerous high-value Out of Home screens and signs around the country. 
Seedooh will now verify that this extensive Out of Home ad spend is backed by accurate campaign delivery, working in close collaboration with Chemist Warehouse's media agency Stratosphere to ensure the team has complete visibility over whether the right messages are being shown in the right places.
The secure third-party process is automated to ensure that results are rapid and accurate, removing the potential for human error or manipulation in manually handling large amounts of data. 
Rutene Wharekawa, Group Media and Partnerships Manager from Chemist Warehouse, said that Seedooh's offering had clear advantages in terms of speed, precision and scale.
"Seedooh's solution is unique because it provides complete and accurate data for every play on every screen, and creates significant efficiencies through automation of reporting without resorting to time-consuming manual processes," he said.

"It makes reporting and analysis at scale easy as information is standardised across all of our media partners and vendors. The real-time view enables us to report verified campaign delivery to our brand partners."
Seedooh Founder and CEO Tom Richter said that the partnership with Chemist Warehouse and Stratosphere was a sign of growing interest in the company's platform. 
"High-profile clients like Chemist Warehouse need a robust level of assurance that their marketing budget is not going to waste. Our solution gives them that confidence, and is an important part of the service they provide to their brand partners. 

"Using our platform, any advertiser or agency can access their complete campaign data on demand for all Out of Home activity, without any additional steps required. It's a fully automated process governed by best practice controls in data integrity, and the support of advertisers like Chemist Warehouse is proof of the unique benefits we deliver." 
Seedooh's Independent Verification Platform works via direct integrations with the adservers that schedule and deliver Digital Out of Home campaigns to almost all networks in Australia. It allows the data to be queried and analysed at scale and in real time – in granular detail or in summary format – in line with any conceivable booking parameters.
The system integrations must comply with the Seedooh Controls Framework, which is based on SOC 2, a global best practice assurance standard in non-financial data, providing an extra level of quality control.