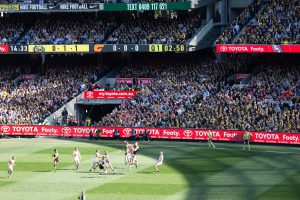 MKTG partners with Seedooh to improve Australia's stadium advertising
MKTG has innovated their in-stadium advertising solution by partnering with Seedooh to create a bespoke, fully integrated, and independently verified reporting platform that tracks real-time campaign performance. The partnership brings a world first solution, providing transparency for advertisers like nothing before.
MKTG is Australia's leading sports and entertainment marketing agency, with commercial partners including AFL, Cricket Australia, FFA and the Victorian Racing Club, delivering solutions for over 100 of Australia's most influential brands.
Seedooh is an independent technology business, providing complete and standardised reporting for buyers and sellers in the Out-Of-Home (OOH) advertising industry. It is the only reporting system that provides real-time, third party verified data for OOH campaigns in all formats.
Seedooh's Independent Verification Platform (IVP) has now been adapted to provide complete transparency of campaign delivery for stadia advertising across both traditional advertising media installations and dynamic content.
The tool will integrate with the full MKTG suite of client tools, such as MKTGDrop which allows seamless creative file uploading for brands and advertisers, and the Ross Content Playout System which ensures best-in-class delivery of in-stadium advertising. All data is made available in real-time and accessed through one simple client dashboard and is now the standard product offering for MKTG clients.
By using the platform, marketers can access verified third party data to monitor and measure their campaigns, including how many in-game displays and commercial moments are delivered. The technology runs off system-to-system automation, removing the manual and inefficient steps in traditional campaign reporting processes.
Matt Connell, MKTG's National Managing Director
"With the consumer landscape continuing to evolve, we're continuously looking to find new and innovative ways that help our clients connect with their audience and maximise their campaign performance."

"Now, more than ever, brands are wanting to have easier access to deeper data and insights, presented in real-time. An important step in our product development has been to integrate an independent, auditable, proof-of-posting system for brands running campaigns within the sport and entertainment industry."

"Seedooh is recognised as an industry best-in-class tool for proof-of-posting reporting in the OOH advertising industry. It is trusted by leading media agencies to provide an always-on source of truth and is verified in line with global best practice standards."

"Our teams have worked closely with Seedooh to enable an extension of their proven OOH platform and create a bespoke solution for stadium verification and reporting, which will improve the robust digital ecosystem of stadium advertising."

"We're already rolling out the solution with the AFL, Cricket Australia and soon the VRC. After a challenging year for the industry, it's exciting to be offering our clients the world's only fully integrated, independent verified reporting system as our standard product offering," said Connell."
Tom Richter, Seedooh Founder & CEO
"As with Out-of-Home, digitisation and innovation in stadia networks now offers brands more flexible display parameters. Following a period of time invested in fully understanding the various ways MKTG deliver value to their customers, and how this may evolve in the future, we have now completed an extension of the core Seedooh platform and intuitive user dashboard to suit the stadia environment. This enables MKTG, along with their sporting partners and associated brands, access to verified, factual display data from the various source systems – however complex the booking parameters."
Kylie Rogers, AFL Executive General Manager Commercial and Consumer, commented
"MKTG have been a partner of the AFL for over 16 years. During this time, they have proven themselves to be a trusted and dependable partner with a consistent commitment to delivery of innovative solutions. The partnership with Seedooh will bring an increased level of transparency to our advertising solutions, and allows us to further extend that trust and confidence to our partners, ensuring that they have the peace of mind that they are reaching Fans in the right place at the right time."
To find out more about MKTG's products, services and capabilities, visit https://www.mktgaustralia.com/